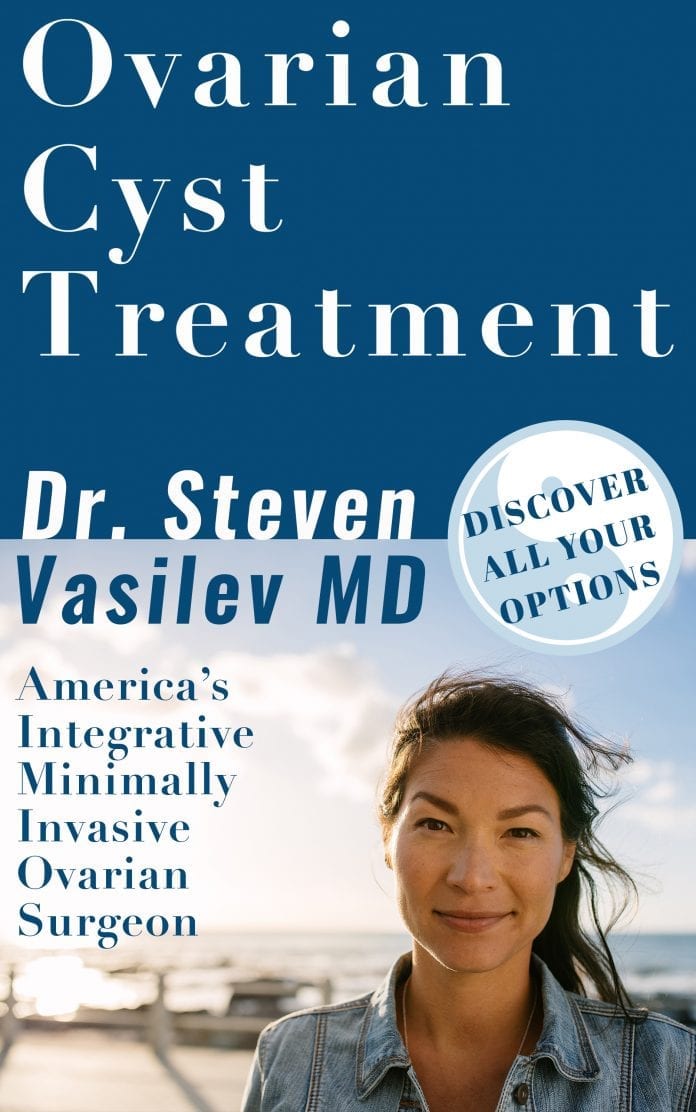 Ovarian Cyst Treatment, written by Dr. Steven A. Vasilev MD, is indispensable to anyone who wants to understand and beat their ovarian cyst problems while staying out of trouble with either under or over-treatment of cysts, ovarian masses, endometriosis or ovarian cancer. At 102 information-packed pages, it is a to-the-point quick read for solutions to your worries.
The options are a 21st Century Patient-Centered Comprehensive & Integrative Ovarian Cyst Treatment Plan vs. Old School Treatment vs. Bogus Unproven Therapies
…..Your Choice Is Obvious.
Ovarian Cyst Treatment introduces a new 21st-century integrative paradigm of care where you are at the center of attention, not your ovarian cyst or mass by itself. While cyst treatment almost always requires some combination of Western techniques, it is equally important to actively support the body and mind during and after treatment. These are mainly natural strategies. They are crucial to prevent cancer, to reduce symptoms during and after ovarian cyst treatment, and to proactively do everything possible to support your health, which can be the root cause of many ovarian cysts.
Ovarian Cyst Treatment is not a book focused simply on "alternative medicine." It is MUCH BETTER and much more far-reaching than that because it is a compilation of what is leading edge and what is most likely to help you! It is the background information for rational and effective ovarian cyst management, designed to keep you out of trouble from either not enough or too much treatment.
Ovarian Cyst Treatment introduces the scientific evidence to get at the truth behind natural options. 21st-century sciences such as epigenetics, nutrigenomics, and hormone modulation form the basis for collaboration between mainstream and natural treatment and support strategies.
Ovarian Cyst Treatment sheds an authoritative guiding light on:
The anatomy and physiology keys behind effective natural ovarian cyst treatment strategies
Types of ovarian cysts vs ovarian masses and staying out of danger from endometriosis and ovarian cancer
Reducing inflammation and oxidative stress to "cyst-proof" your body as much as possible
Rational hormone "balancing" to limit risk of cancer while helping avoid cysts
Guidance about when surgery is necessary and when it is notAn introduction to surgical minimally invasive tiny keyhole incision surgery, even for large cysts, ovarian masses and cancer
Valuable tips on what to ask your doctors and how to talk to them
And much more…
Dr. Steven A. Vasilev MD is America's first and leading quadruple board-certified integrative gynecologic oncologist who specializes in advanced minimally invasive robotic surgery.